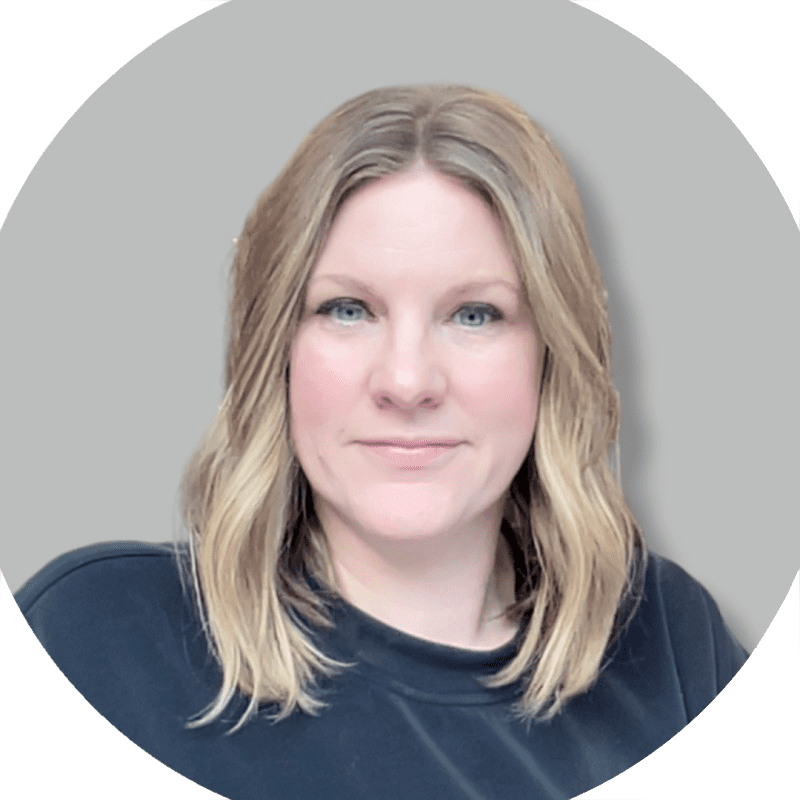 Nicole Arksey
October 16, 2023 - 5 min read
How Dash Enterprise 5.2 Enables Data Science Teams to Influence Mission-Critical Decisions
Nicole Arksey is no stranger to leading successful product strategies. With over 15 years of experience as a product manager, founder, and career mentor, Nicole now oversees the product management team at Plotly with dedication and enthusiasm.
Plotly is at an exciting point in time, on the eve of Dash Enterprise 5.2, the latest iteration of its industry-leading low-code data app platform. This fall release brings an unprecedented level of innovation to supercharge the flexibility, customization, and enterprise-grade security the platform is known for among Fortune 500 companies.
Below, Nicole shares her thoughts on how Dash Enterprise 5.2 will bring unrivaled speed, convenience, and efficiency to data app development.
Rapid production-ready apps, multiple data app frameworks, & AI workflows — why I'm excited about Dash Enterprise 5.2
With Dash Enterprise 5.2, there are three themes that stand out to me. They're elements we know will make a significant impact as data science rapidly matures, exponentially requiring the sophistication to influence critical business decisions.
We're drastically shortening the time to convert Jupyter Notebooks to production-grade data applications
We're facilitating distributed data science teams with the flexibility to work with varied app types in a single platform
We're delivering the time- and cost-savings potential of AI to our users by empowering them to leverage it in their workflows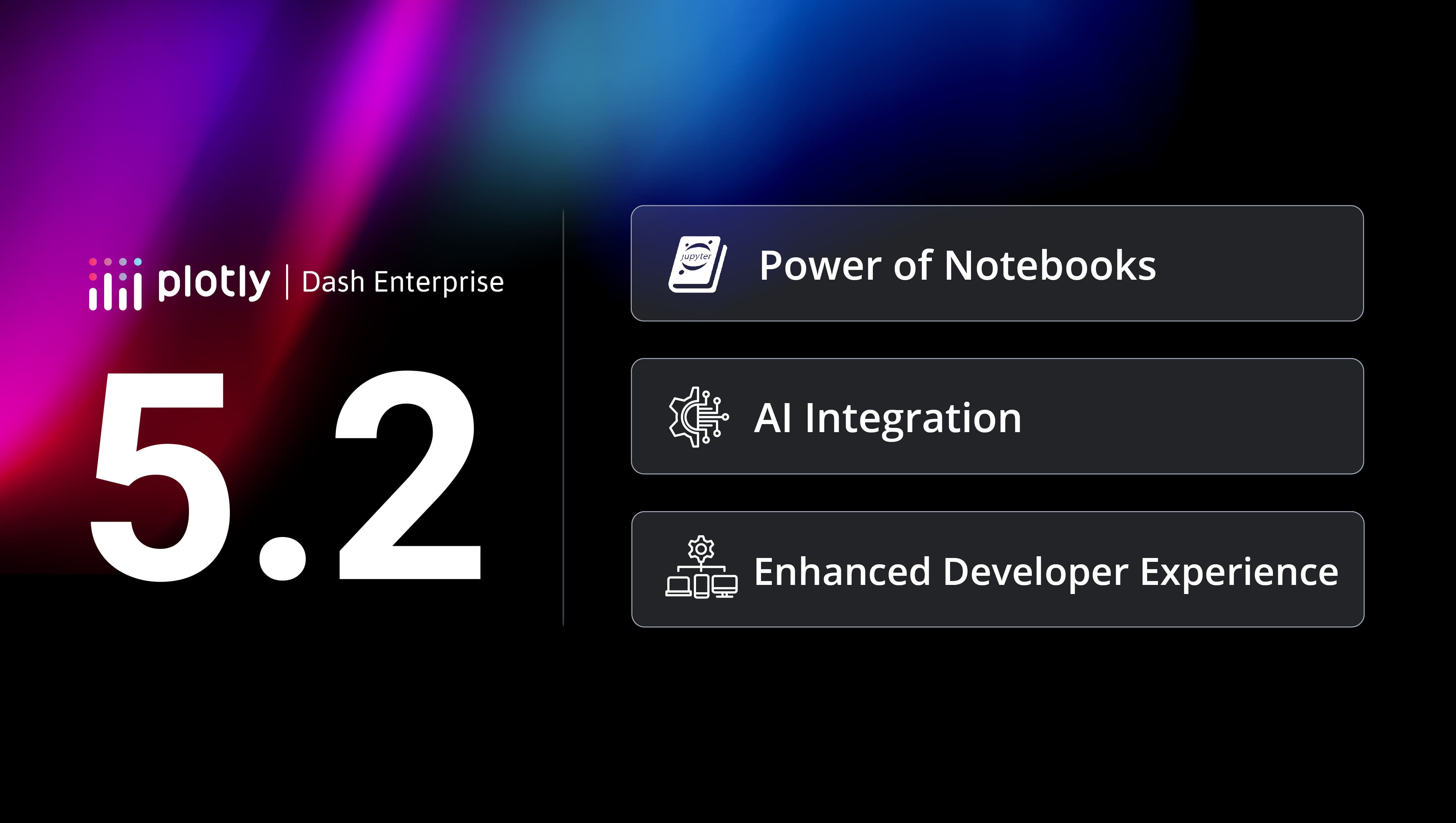 Each of these three themes are packed full of features, improvements, and enhancements that will make data app creation more impactful than ever before — allowing data science teams to focus on their core competencies while still deploying and sharing professional data apps.
Professional, production-ready data apps with Plotly App Studio
What's not to love about Jupyter Notebooks? They can be as simple or as complex as you need them to be, from quick insights generation to sophisticated visualizations or even dashboards.
But what happens when a rapid prototype in a notebook needs to be much more — a scaled, comprehensive data app that meets the rigid requirements of a production environment?
With Plotly App Studio, our new visual app editor, we're offering you the ability to convert your Jupyter Notebooks and Python scripts to production-ready data apps. What would typically take hours or days would now require just a few minutes and up to 80% less code, with code autogeneration and a reactive coding interface.
With this feature, data science teams can rapidly scale from exploratory data analysis in notebooks to secure, professional, and streamlined data apps for consistent actionable insights and confident decision-making.
Diverse app support and enhanced data app development
We're expanding the scope of your data science projects by allowing you to integrate multiple app frameworks to deploy data apps with Dash Enterprise.
Whether that's Dash, or another app framework external to our ecosystem, we're supporting your freedom to work with what you're most familiar with. We also aim to deliver a seamless data app development experience to distributed and multi-departmental data science teams that have different needs and work with varied tools and frameworks.
To further enhance the data app development experience, we're bringing an entire bundle of enhancements to Dash Enterprise 5.2. 
Updated, brilliant new design themes. Shareable links. A comprehensive app runner. App shortcuts, viewer analytics, and automated deployment with a Command Line Interface (CLI). These are just previews of some of the exciting features to come.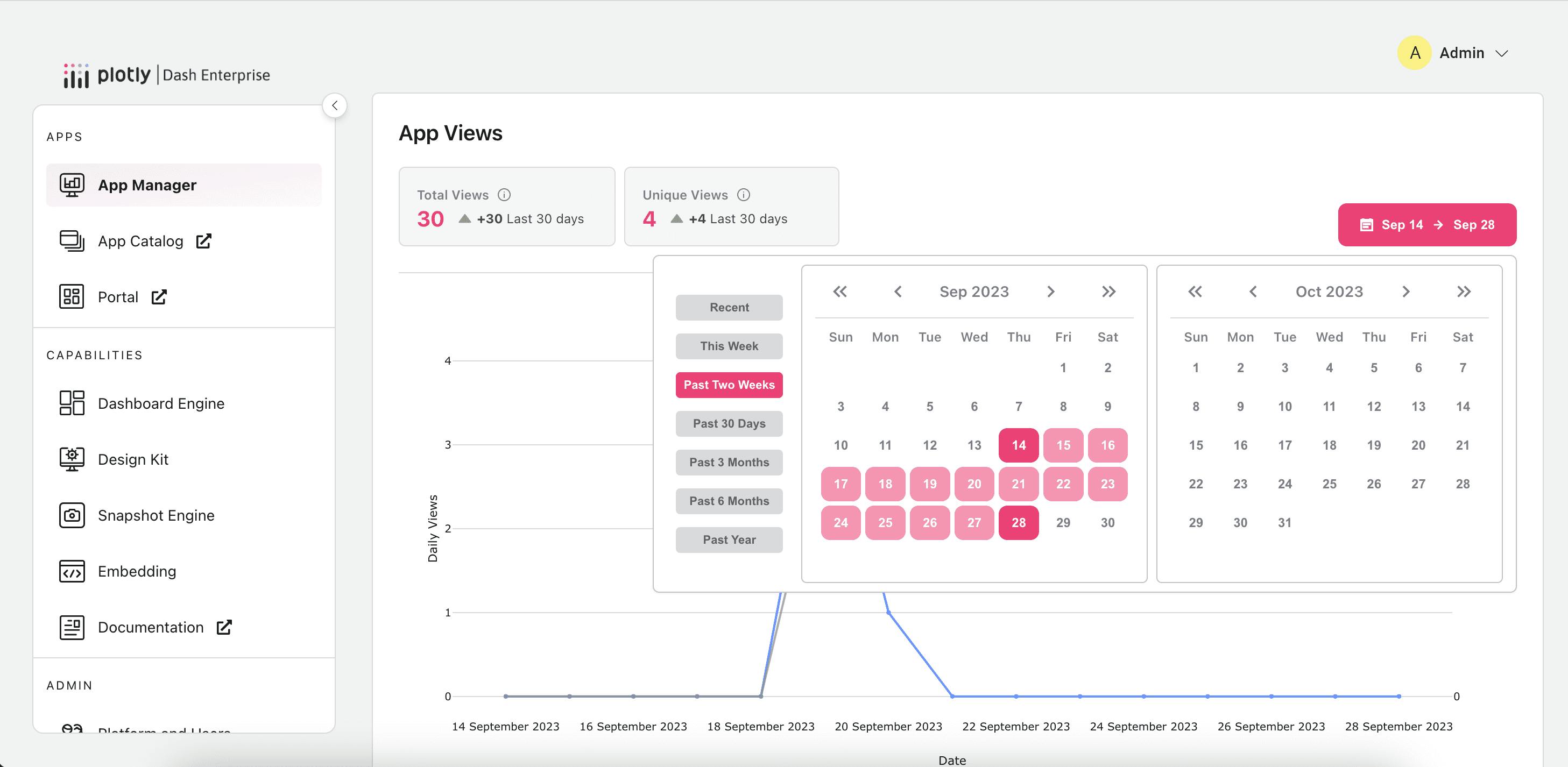 Preview of viewer analytics, featuring in the enhanced developer experience offered by Dash Enterprise 5.2.
AI-driven data science workflows
AI took the world by storm last year and continues to grow with its potential to eliminate tedious tasks from human workflows. Data scientists are generally the ones building AI models, but what about the converse?
Dash Enterprise offers a range of AI features to automate data science processes and ease the burden of manual workflows. As a quick sneak peek, we're going to be unveiling a documentation chatbot, smart insights, and AI code editor capabilities.
We're working to help data scientists move past boring, repetitive, and manual tasks to focus on influencing the business with data-driven insight.
The drive for Dash Enterprise
Dash Enterprise was created to address a need for production-grade data applications that were powerful — yet intuitive to develop and deploy.
What does that mean?
We balanced scalability with customizations and theme choices. We expanded installation capabilities while adhering to strict security protocols and preserving performance standards.
In short, we created a high-quality experience for data science teams that allowed them to drive decisions with actionable business insights, while thriving in a stringent corporate environment. And we've been continuing to enhance that experience with each iteration of Dash Enterprise.
A quick recap of the success of Dash Enterprise 5.1
Reflecting on our past release, Dash Enterprise 5.1 was a game-changer. It brought more flexibility and stronger security to the corporate data science world, showing our commitment to continuous improvement.
This release delivered over 100 feature enhancements. We enabled our users to benefit from heightened security controls, and improved performance and reliability.
With compatibility for VM and Bare Metal setups, Dash Enterprise 5.1 provided a comprehensive solution for building, deploying, and scaling data apps within corporate settings. It was a significant step forward in our mission to empower data-driven innovation.
Elevating the scope and standards of data science
At Plotly, we're focused on fortifying and accelerating data application development for data scientists. But we're also big fans of noting what our community loves and converting it to features that will further grow and nurture that community.
We're constantly seeking new ways to raise the bar for data science, going beyond surface-level enhancements to enable data science teams with the tools to create a measurable impact on the business.
Over the next few months, we'll continue to give you glimpses into what's coming while we prepare to unveil this exciting chapter of our story.
It's a story I'm proud to be part of — I'm incredibly proud of what our team has been building for the betterment of data science.
Stay tuned and reach out to info@plotly.com to learn more!