Design Kit
Design like a pro-without writing a line of CSS or HTML. Design Kit takes "low-code" development to a new level.
The Dash Enterprise Design Kit lets you easily arrange, style and customize Dash apps so that they can be deployed in no time. We developed Design kit for Plotly's own Dash consulting team to address a recurring problem-every Dash application we wrote contained similar code-intensive CSS. There had to be a better way.
Design Kit is our next-generation, reusable information design framework for Dash. We designed simplified layouts. We created enterprise-friendly sidebars and headers. We added a point & click theme editor to rapidly unify Dash app look and feel.
With Design Kit, Dash apps that used to weigh in at 2,000 lines can be pixel-perfect in just 200.
Templates & Starter apps—hello, world!
Sometimes we all just need a little help getting started. Dash Enterprise comes with ready-to-use app templates, in the most popular layouts & starter apps allowing you to easily create highly polished applications and integrate them with a wide range of data sources. You can easily experiment with styles and layouts to get just the right look, including pre-built pixel-perfect templates so you can get up and running even faster.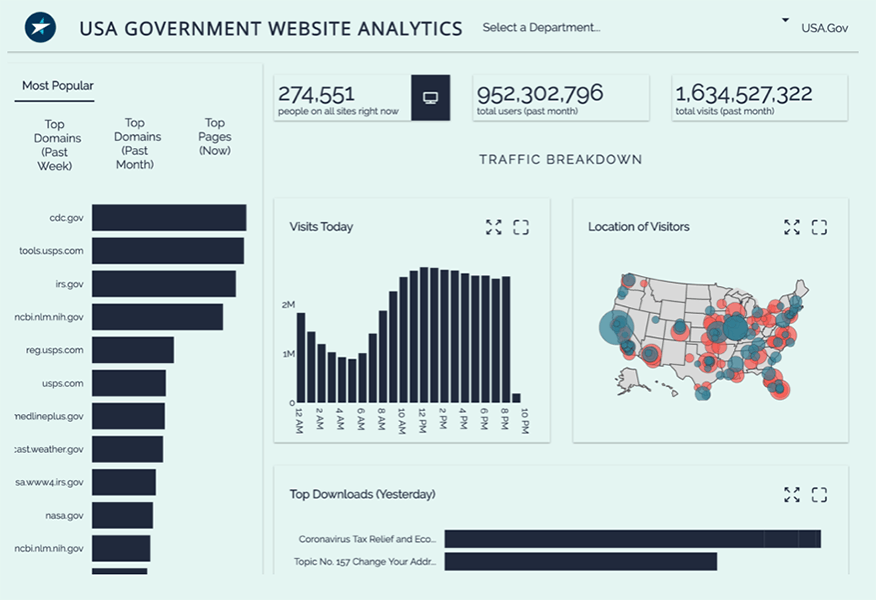 Style, color, brand.
Dash's design GUI lets you professionally style Dash apps in only a few clicks. Change colors, add logos and even control the look and feel of buttons and borders. Use the built-in themes, or adapt the theme to your company's brand guidelines. If you want even more control, you can apply colors and themes down to the individual component level to give your app just the right look.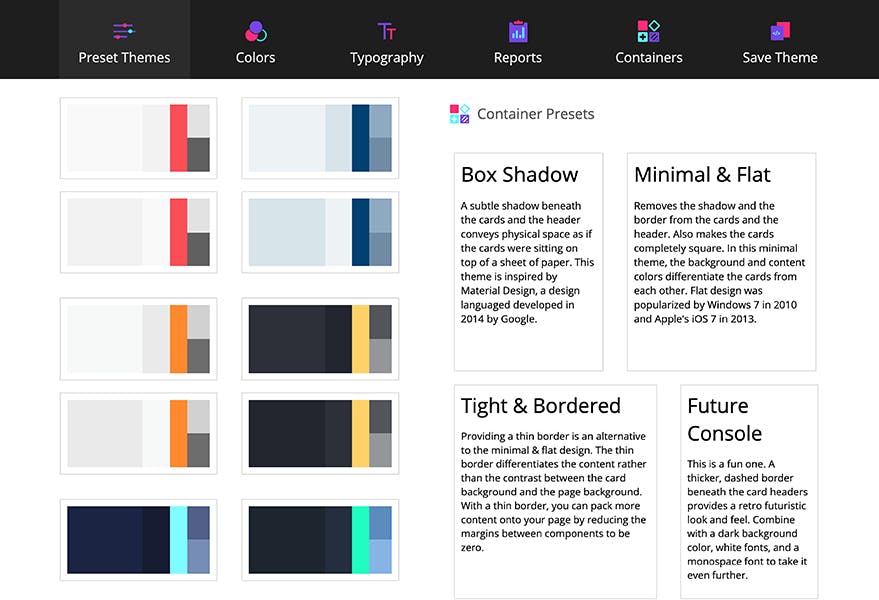 It's a wonderful, widgetful world!
Easily arrange and customize your Dash apps with customizable controls, headers, and navigational elements.
Specialized components like full screen buttons, alerts, modals, and data cards go above and beyond what's available in open source.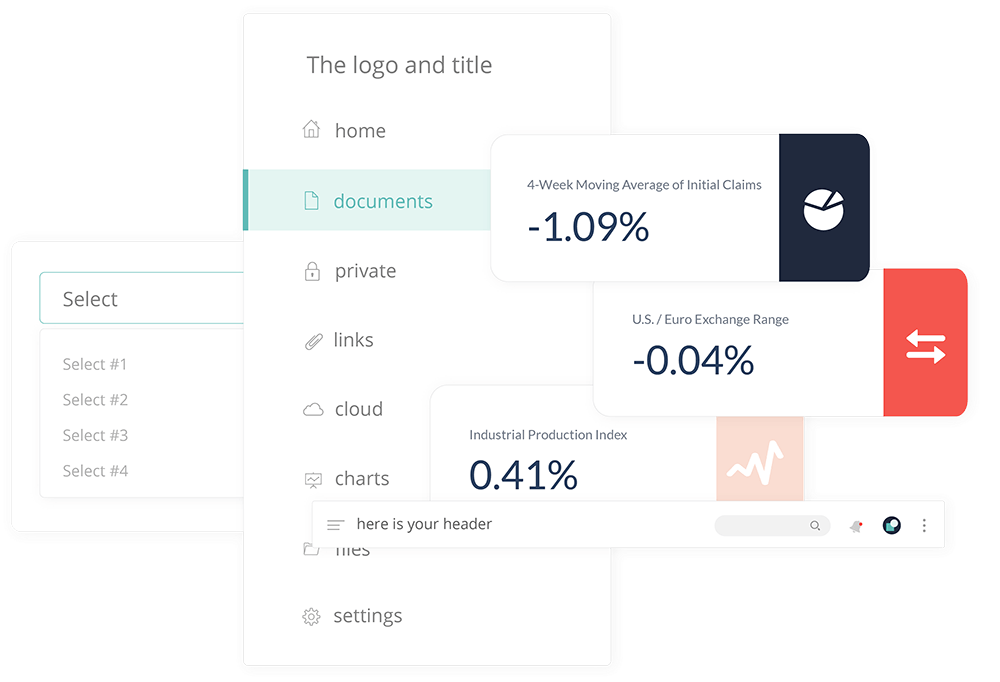 Print-ready reports.
When you need to deliver reports in multiple formats, Dash Enterprise has you covered. Dash Enterprise's Design Kit includes specialized page & report components that format your application in a printable 8.5"x11" container with specialized print-ready theming. So, your Dash app can have a rich web user interface that looks great and be formatted for great looking, print-ready reports. Web native and print native all in one.
The reporting components integrate directly with the Snapshot Engine to enable pixel-perfect, programmatic reporting.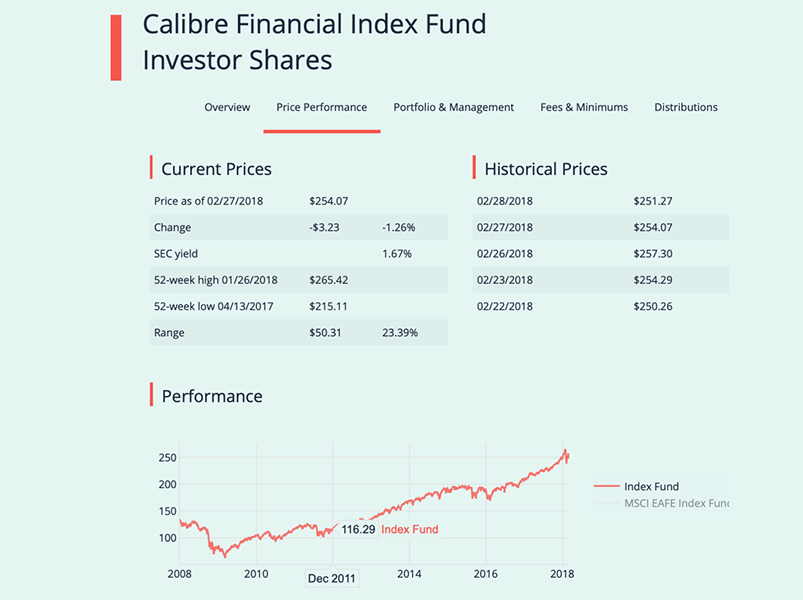 Branding.
With Design Kit's theme editor, make all of your organization's Dash apps perfectly on-brand.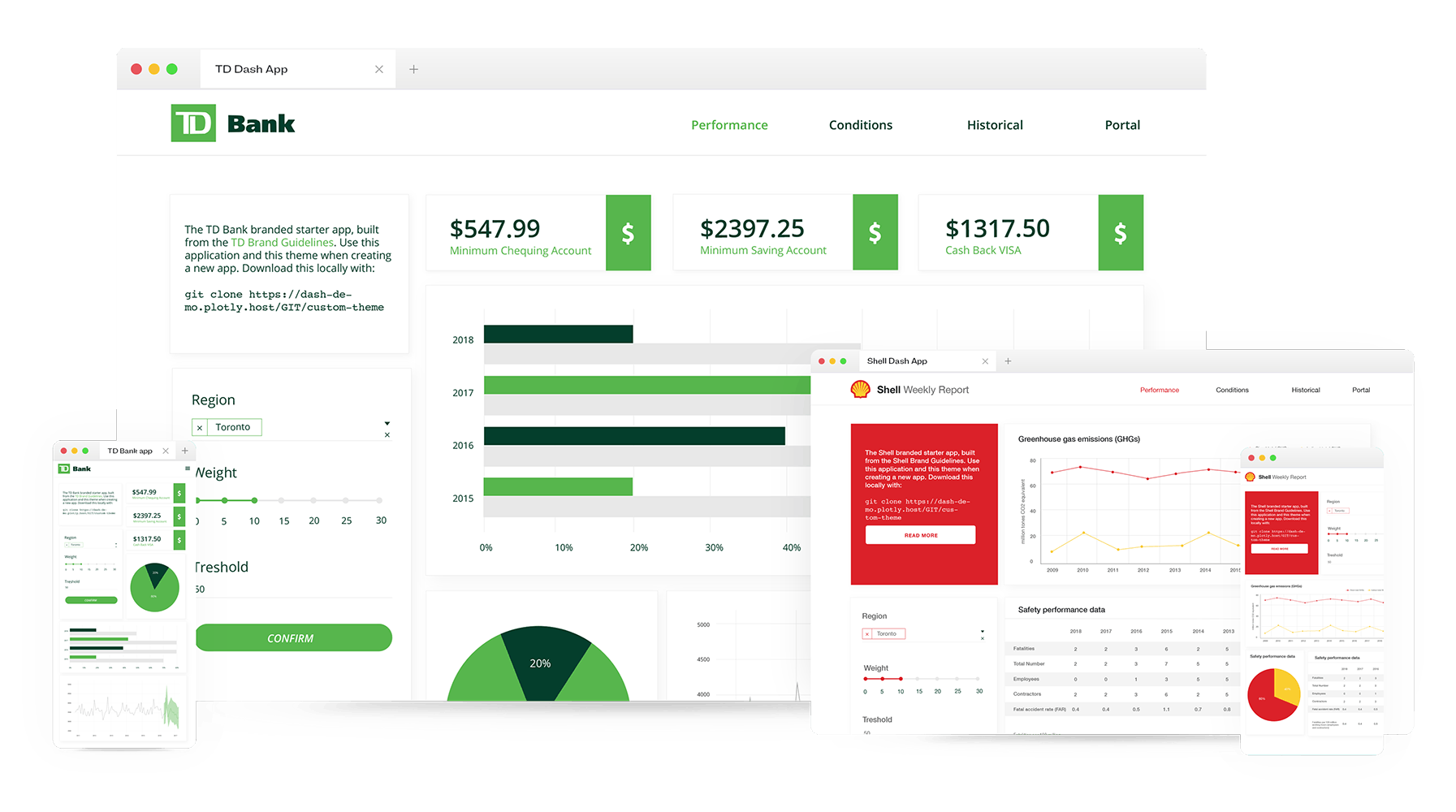 Alerting
Notifications can be triggered both on-screen and via email. These alerts can be customized for a set threshold value or sent to particular group of users, helping to improve operational efficiency and response times.
Easily arrange, style, and customize your Dash apps. Go from exploration to deploying beautiful, production-ready apps in no time.
📃Experiment with different layouts.
✏️Add annotations and highlight KPIs.
🎨Customizable colors, controls, headers, and navigational elements.
📱Create fully responsive, mobile-friendly apps.
Styling with Dash Bootstrap vs Dash Enterprise Design Kit
Dash Core Components, graphs, and interactive tables are not themeable with Dash Bootstrap Components. A simple color change requires the help of a front-end developer to modify and match the styling of each individual card.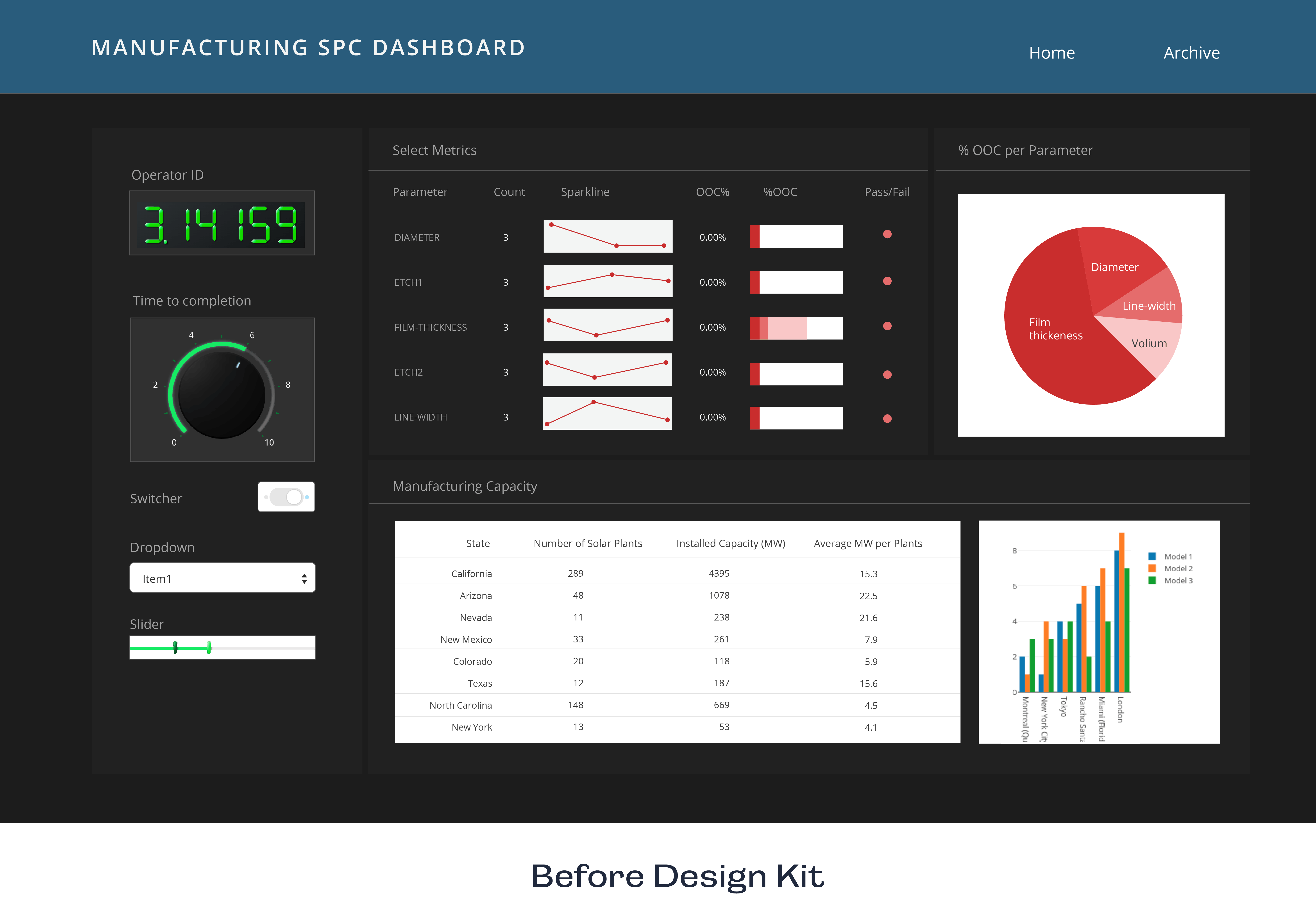 With Dash Enterprise Design Kit, styling is made simple, no matter how many cards an app has. Dash Core Components, graphs, and interactive tables are all themeable. Style changes can be made with a click of a button in the live design GUI and shared across multiple applications.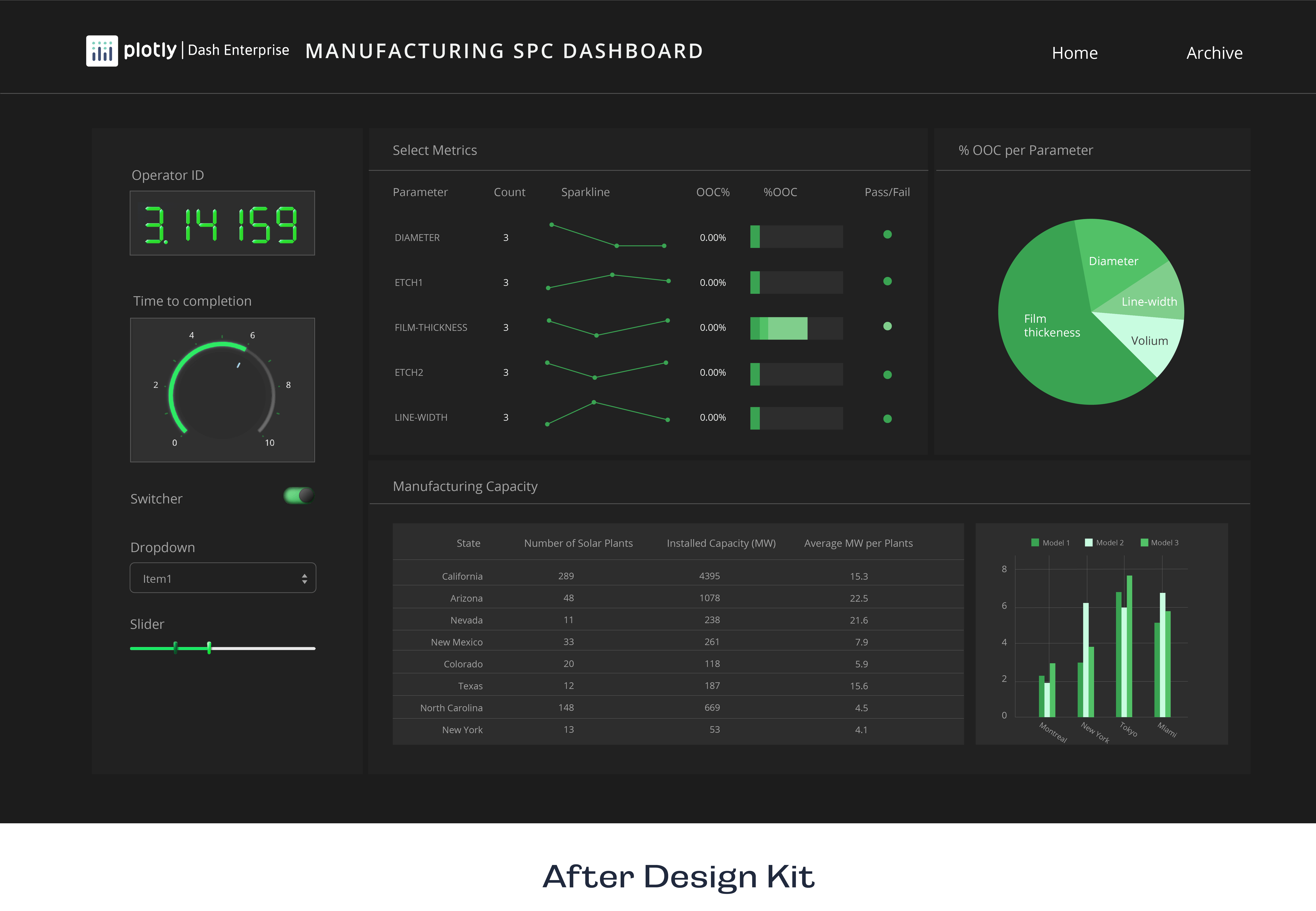 How do Dash Enterprise Design Kit and Dash Bootstrap Components compare as style libraries?
| | Dash Enterprise Design Kit | Dash Bootstrap Components |
| --- | --- | --- |
| Author & Maintainer | Plotly | Faculty.ai |
| Templates | Yes | Yes |
| Starter Apps | Yes (84) | Yes (1) |
| Live Design GUI | Yes | |
| Print-Ready Interactive Reports | Yes | |
| Slides | Yes | |
| Widgets | Yes | Yes |
| Persistent Notifications | Yes | |
| Python Exception Notifications | Yes | |
| Drag & Drop | Yes (upcoming release) | |
| Themeable Dash Core Components | Yes | |
| Themeable Graphs | Yes | |
| Themeable Interactive Tables (DataTable) | Yes | |
| Granular Styling | Yes | |
| Fullscreen Previews | Yes | |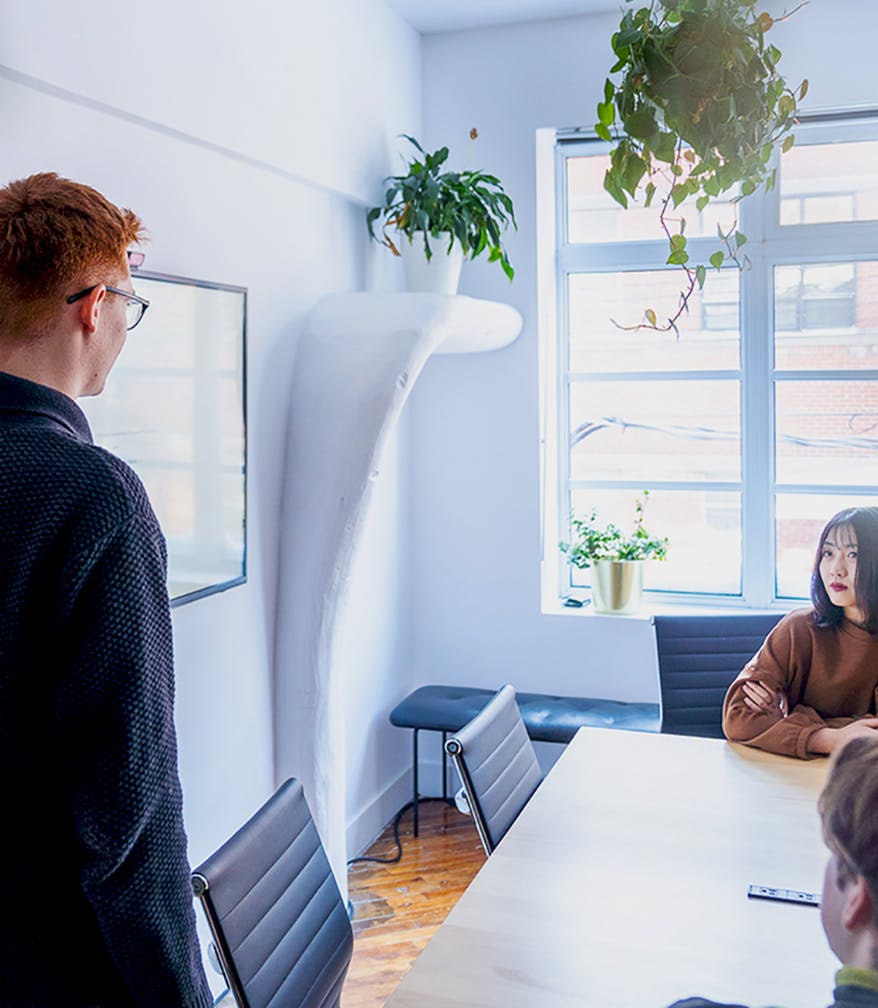 See Dash in action.
Sign up for our next Dash Live Weekly demo session to learn more about our Dash Enterprise offering, including industry applications and all the latest tips and features on how to operationalize your data science models.