Dash Enterprise
The Premier Data App Platform for Python.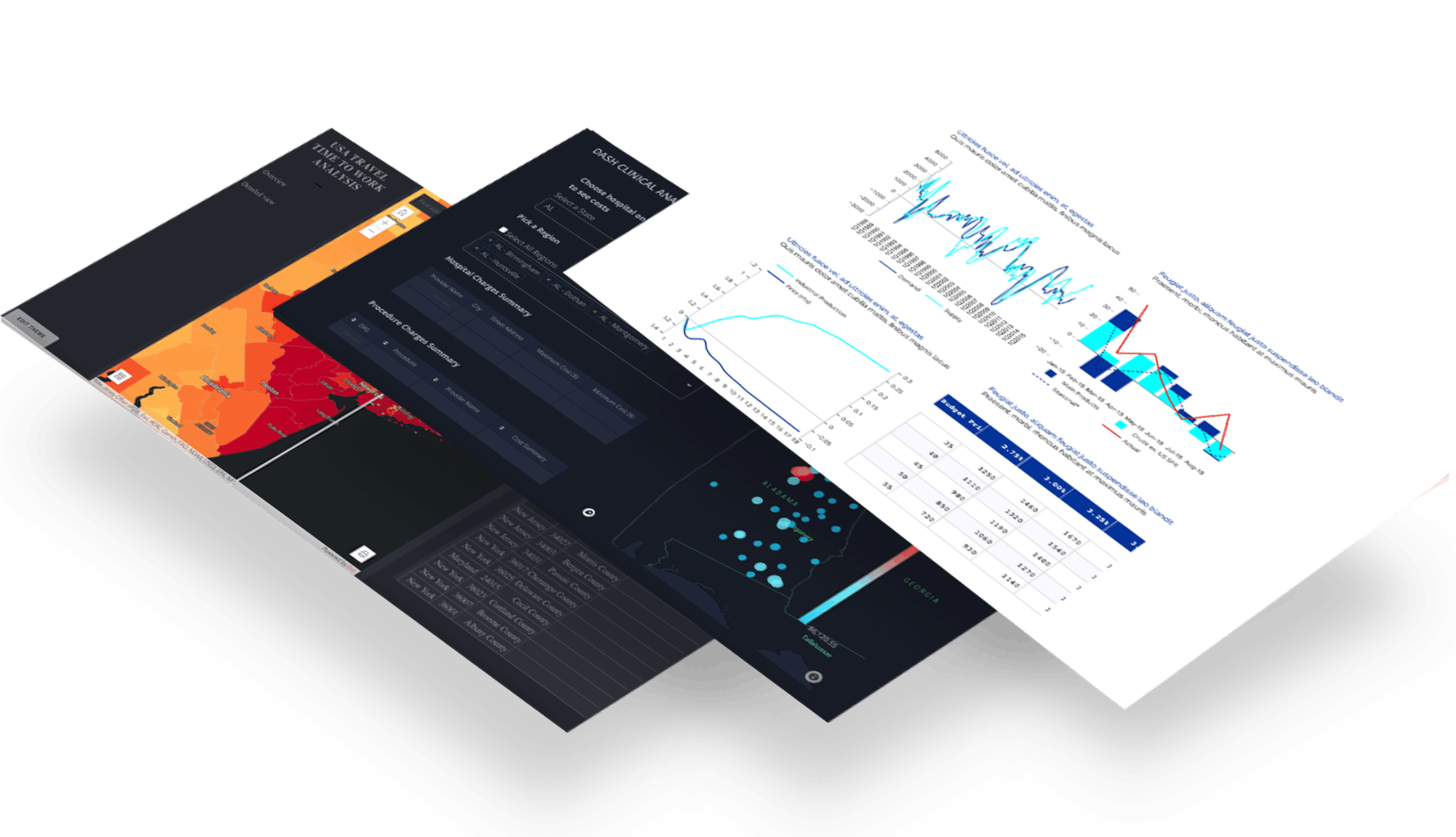 Overview of Dash & Dash Apps
Dash apps give a point-&-click interface to models written in Python, vastly expanding the notion of what's possible in a traditional "dashboard." With Dash apps, data scientists and engineers put complex Python analytics in the hands of business decision-makers and operators.
When building Dash apps in a business setting, you'll need Dash Enterprise to deploy and scale them, plus integrate them with IT infrastructure such as authentication and VPC services. Watch this short video to see how Dash Enterprise delivers faster and more impactful business outcomes on AI and data science initiatives.
Dash Enterprise enables the rapid development of production-grade data apps within your business.
Python has taken over the world, and Dash Enterprise is the leading vehicle for delivering Python analytics to business users. 
Traditional BI dashboards no longer cut it in today's AI and ML driven world. Production-grade, low-code Python data apps are needed to visualize the sophisticated data analytics and data pipelines that run modern businesses.
Dash Open Source Framework
Plotly stewards Python's leading data viz and UI libraries.
With Dash Open Source, you can create data apps on your laptop in pure Python, no JavaScript required.
Get familiar with Dash by building a sample app with open source. Scale up with Dash Enterprise when your Dash app is ready for department or company-wide consumption. Or, launch your initiative with Dash Enterprise from the start to unlock developer productivity gains and hands-on acceleration from Plotly's team.
Click below to install Dash Open Source:
Dash Enterprise Platform
Reliable and scalable platform for rapid Dash app deployment.
Dash Enterprise is the trusted, purpose-built platform for using Dash within a business. The platform provides deployment, rapid development environments, and authentication out of the box. On the development side, a set of low-code libraries vastly extend the capabilities and simplify the development of creating Dash apps.
Award-Winning Customer Support
Access comprehensive support, guided installation, enablement sessions, and more with Dash Enterprise. Learn how Plotly's Customer Success team enables faster decision-making with expert assistance, from development to deployment.
Dash Apps Built with Dash Enterprise
Dash provides a friendly Python interface for creating flexible, interactive, and customizable apps that connect directly to your analytics code.
Machine Learning app

This object-detection app provides useful visualizations about what's happening inside a complex video in real time. The data is generated using MobileNet v1 in Tensorflow, trained on the COCO dataset. The video is displayed using the community-maintained video component.

Oil & Gas dashboard

This Dash app displays oil production in western New York. Filters at the top of the app update the graphs below. Selecting or hovering over data in one plot will update the other plots with cross filtering. Dash apps are powered by Plotly's popular open source graphing library featuring maps like these, financial charts, scientific graphs, and more.

Pharmacokinetics app

This app, created for non-compartmental pharmacokinetics, is typically used to analyze data from small animal studies during the lead optimization phase of drug discovery. These studies are used to help predict human dosing and plan safety studies.

Financial report

Dash Enterprise provides a framework for creating structured PDF reports in Python. A Dash app can have a web interface as well as a PDF download. Use Dash to automate reporting at scale.
"Dash Enterprise has expanded S&P Global's Market Intelligence capabilities to extend insights to our clients efficiently using highly interactive, customizable Dash data apps."
Moody Hadi
Development, S&P Global
"Best dashboard framework for Python, but it's way more than that. It's React right in Python."

Sean McCarthy

Chief Data Scientist at IJACK

Dash is the leading Data app platform on G2 Crowd

"Python & Dash. It would be hard to find a better toolkit for Data Science."

Mid-market Utilities Company

"Dash has enabled the project to evolve at a high cadence. It has allowed us to prove concepts and provide users with effective solutions in a very short time."

Software Development Consultant

Medium Enterprise Technology Hardware, Storage & Peripherals Company

"[Dash] saves the traditional engineering team 30+ minutes, equating to 10+ hours per week."

Sr. Product Engineer / Software Engineer

Large Enterprise Semiconductors & Semiconductor Equipment Company

"[Dash is] my default tool for building dashboards. The main impact is that a single analyst can quickly put together interactive tools, which allow them or others to quickly catch patterns or inconsistencies in the data."

Director of Data Analytics

Medium Enterprise Biotechnology Company
Sign up for a live demo to learn more about our Dash Enterprise offering.
JOIN THE THOUSANDS OF INNOVATORS THAT ARE ALREADY BUILDING WITH DASH ENTERPRISE.