DASH ENTERPRISE
Snowflake and Dash Integration
Snowflake is a cloud-based data warehouse service offered by Amazon Web Services. It integrates with many traditional BI tools, but Plotly has partnered with Snowflake to ensure Dash is the ideal front-end for your Snowflake database when you need to go beyond traditional BI and interact with real-time machine learning or AI processes.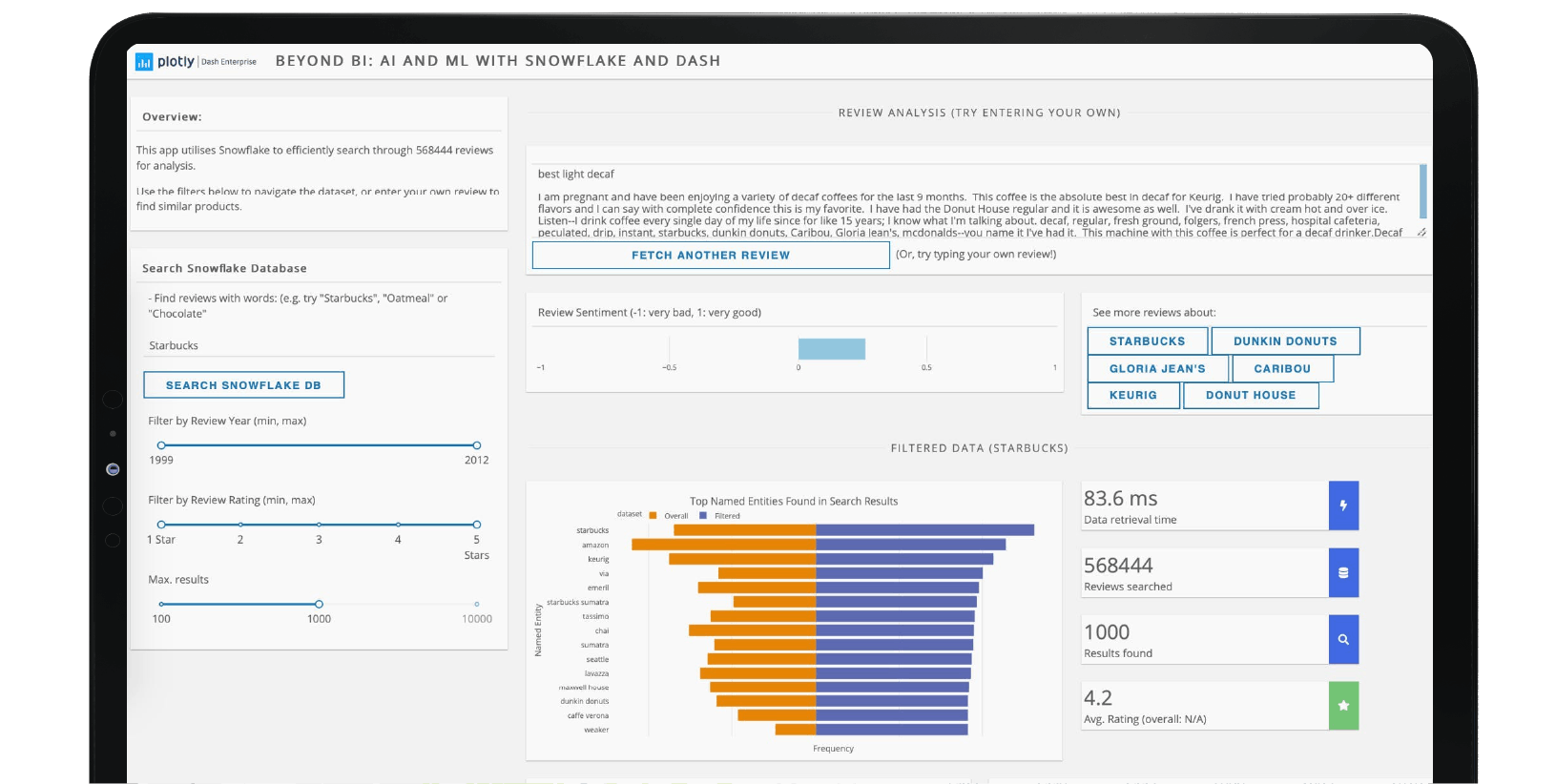 Modern Data: Integrate Machine Learning and Big Data into Real-Time Business Intelligence with Snowflake and Plotly's Dash
By pairing Dash with powerful services such as Snowflake, you and your organization can take advantage of all that Big Data offers, while minimizing the headaches, inconsistencies and labor involved in analysis and communication.
Customer Story: Bringing powerful Python analytics to the NBA
Using Dash Enterprise, Head of Basketball Analytics Cory Jez was able to produce and securely deploy over 20 dashboards for key KPIs that enable the Utah Jazz's operational and business decisions.
Dash Apps Built with Dash Enterprise
Dash provides a friendly Python interface for creating flexible, interactive, and customizable apps that connect directly to your analytics code.
Demo App: Interest Rate Modeling

Querying data from a Snowflake Data Warehouse, this app trains and evaluates a L2 regression (Ridge) model for predicting the interest rates of loans based on various factors.

Demo App: Beyond BI - AI and ML with Snowflake and Dash

Designed to search and analyze over half a million user reviews from Amazon, this app utilizes Snowflake to efficiently search through 568,444 reviews.

Demo App: Machine Learning for Loan Grade Analysis

This app connects and queries from Snowflake databases, using pre-trained Decision Tree Classifiers to perform real-time predictions on tabular data.
Architecture
Dask enables your production-grade Dash application to load and process very large datasets or models using distributed computing with familiar Python data science tools.